Paul & Cath O'Connor
Breeders of exhibition & pet type budgies
in the S.Wales area
This is where it all began for me.

This photo was taken about 1976 when I used to keep a few budgies in a small extension to my father's tool shed, and this was to be the site of our new aviary.
I always liked to think that one day I would get back into the hobby of breeding and exhibiting budgies. Then, in 2010, a few years after purchasing the house where i grew up after my father decided to sell, we decided the time was right and it would be a hobby that my wife Cath and I could enjoy together. We began by knocking down the old shed which had been used for many years as my father's tool shed. I was quite surprised to find that the old mesh still remained under the cladding and the memories came flooding back.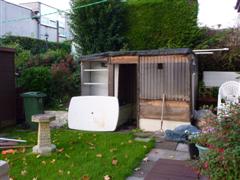 We knocked the old shed down at the end of Oct 2010 and the new aviary was just about ready when we got our first budgies at the end of Jan 2011.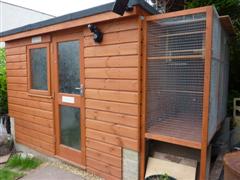 The plan is for Cath to keep some pretty pet type budgie's whilst I concentrate more on the exhibition type.

We are current members both , The Budgerigar Society
& the Welsh Budgerigar Society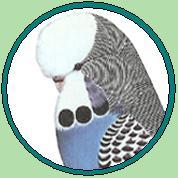 and our unique membership numbers are
O1111 & WO17